Serves : 6
Cooking Time : 60 mins
This is a super quick and easy dish to make that my kids gollop down every time. Also great for freezing.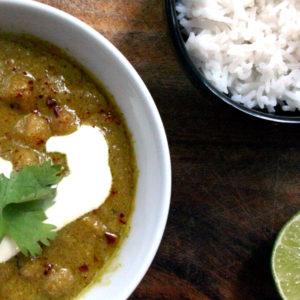 Ingredients:
3 cans of chickpeas, drained and rinsed
1 tablespoon of sunflower or other neutral oil
½ teaspoon of cayenne pepper
1 teaspoon of ground cinnamon
1 teaspoon of Garam Masala
½ teaspoon of salt
1 large red onion, roughly chopped
1 inch of ginger, peeled & roughly chopped
4 cloves of garlic, peeled
1 tablespoon of sunflower or other neutral oil
½ teaspoon of cumin seeds
4 bay leaves
8 cloves
1 teaspoon of ground turmeric, or 2 cm of fresh turmeric peeled and grated
2 cans of organic coconut milk
2 medium-large ripe mangoes
1 teaspoon maldon salt
2 tablespoons apple cider vinegar
black pepper
Coriander, chopped, to garnish
Serve with white or brown basmati rice (if using brown try to soak for at least a few hours in advance)
Method
Chickpeas:

Heat the oil in a large heavy bottomed pan over a medium heat, spread the oil around so it gives the pan an even coating.
Add the chickpeas and cook for about 4 minutes. Stir occasionally.
Add the cayenne, cinnamon, garam masala, and salt and mix well. Cook for another 4 minutes, or until chickpeas are starting to crispen slightly. Then set aside. (These make a lovely salad like this with a side of tzaziki)
Curry:
In a blender (I use my nutribullet), combine the red onion, ginger, garlic with two tablespoons of warm water and whizz into a smooth pureé.
Heat the oil in the same heavy bottomed pan over a medium heat. When the oil is hot, add the cumin seeds, bay leaves and cloves. Cook for 1 minute.
Add the pureéd onion paste and the tumeric and cook until the pureé is quite dry and no longer smells raw. Stir occasionally to keep from sticking. 10-12 minutes.
Meanwhile peel the mangos and remove the flesh. Whizz in the blender.
Add the coconut milk, mango pulp, salt and vinegar and stir. Add the turmeric.
Add the chickpeas and a twist of black pepper.
Mix, cover and cook until the sauce comes to a simmer. Then reduce the heat and cook uncovered until the sauce thicken up a bit. Around 15 minutes. I usually put my rice on around now.
Taste towards the end – it may need more seasoning, or a dash more vinegar.
Serve with rice, garnish with coriander.
We often also season with some tamari soy sauce, and for the adults a few chili flakes.