Sweet Potato and Red Pepper Soup
Serves : 6
Cooking Time : 30 mins
This is my husband Brian's invention and is a great hit with the kids as it is so sweet and yummy!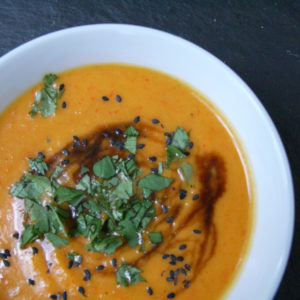 Ingredients:
1 onion, chopped
2 cloves of garlic, crushed
generous tablespoon of coconut oil
glug of olive oil
2 large sweet potatoes, peeled and chopped in to chunks
2 red peppers, chopped in to chunks
2 cans of coconut milk
250-500ml stock (I use vegetable)
salt and pepper to taste
Fresh coriander chopped to serve (optional)
Tamari soya sauce to serve (optional)
Method:
Preheat your oven to 180 degrees.
Place the two chopped red peppers in a baking tray and gloss with olive oil. Pop in the oven and roast for 20-25 minutes or until soft and aromatic.
Meanwhile peel and chop your sweet potatoes.
Then prep your onion and sautee in a generous tablespoon of coconut oil for 5 minutes in a large heavy bottomed pan until translucent, but not brown. Add in the garlic and cook for a further 2 minutes. Then pop in the chopped sweet potato and stir until well coated in the oil. Cook for about 6-7 minutes stirring regularly. This sweetens up the sweet potato nicely.
Then add in the two cans of coconut milk and stir. Bring to the boil and then reduce to a simmer. Your peppers should be ready around now. Take out of the oven and add to the soup.
Simmer for about 20 minutes, or until your sweet potato is soft.
Remove from the heat. Whizz until silky smooth. At this point, if you feel the mix is too thick, add in some stock slowly until it reaches the right consistency. Season to taste and serve, topped with chopped coriander and a drizzle of tamari if you have them to hand